Oh the weather outside is frightful… Yes, it's almost that most wonderful time of the year again, but as great as the holidays are, finding that perfect gift can also be stressful. This year we've made things easy for everyone. What's the one gift everybody wants and that never goes out of style? How about giving the gift of health, happiness, and life. This year, give the gift of clean water with our easy and convenient Drop in the Bucket holiday e-card.
This year's e-card features a beautiful portrait from our good friend, photographer Star Sargenti. Drop in the Bucket had just finished drilling a well for the Kyere Township Primary School in Uganda,  when Star took this photo. The image of a child enjoying his first taste of clean water really captured the moment. The absolute unbridled joy that children experience when tasting clean water for the first time. As soon as we saw the picture, we knew we needed to share the moment with everyone.
These cards are the perfect gift for someone you love, work with, or just for that person who is difficult to buy for. After all, who wouldn't want to change someone's life with clean water this holiday season?
The cards have space on the right to add text. When they are filled out they look like this: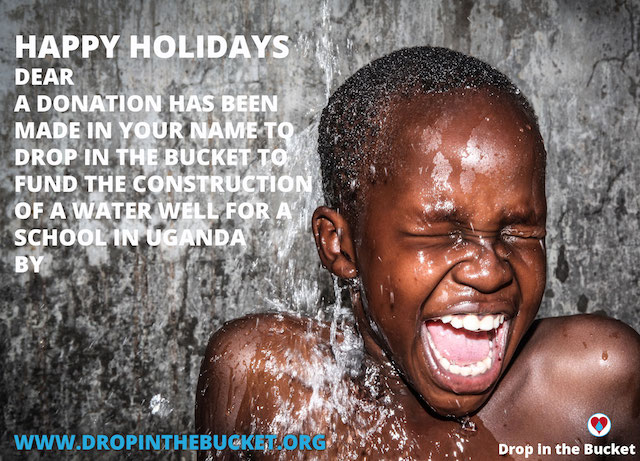 To get your card, just click this link, just enter your name, the name of the person you want to send the card to, and their email. You can also add a personal message to the email if you want and that's it! We will take care of the rest, no waiting in line, no crowded stores and no items out of stock. Just the perfect gift everyone will love, because kindness never goes out of style!