Prefer to mail in your donation?
If you prefer to send in your donation the traditional way, simply click on the link below to download our easy-to-use donation card. Fill it out and mail it along with your donation. Your thoughtful generosity helps us continue our mission and make a tangible difference in the lives of those we serve.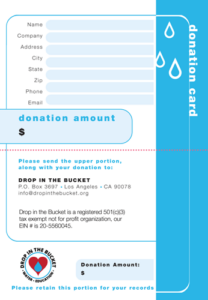 Frequently Asked Questions
IS MY DONATION SECURE?
Drop in the Bucket works exclusively with Stripe, the industry leader in e-commerce to ensure that your information will always be secure and confidential. We use industry-standard SSL (secure socket layer) technology to protect your information and provide a safe and secure environment for online donations.
IS MY DONATION TAX DEDUCTIBLE?
Yes, Drop in the Bucket is a registered 501(c)(3) not for profit organization. Your donation is tax-deductible within the guidelines of the U.S law. Please consult your tax prepared with regard to this matter. You will be sent a receipt with your donation, this receipt should be given to your tax preparer. Drop in the Bucket's EIN# is 20-5560045.
WILL I GET A RECEIPT FOR MY DONATION?
A donation receipt will be sent to you at the email address you provide on this form. Please be sure to keep a copy of your receipt for tax purposes. If you select a recurring donation, you will be sent an individual receipt each month when your donation is processed.
You can't find an answer to your question?