Article from Uganda's New Vision Newspaper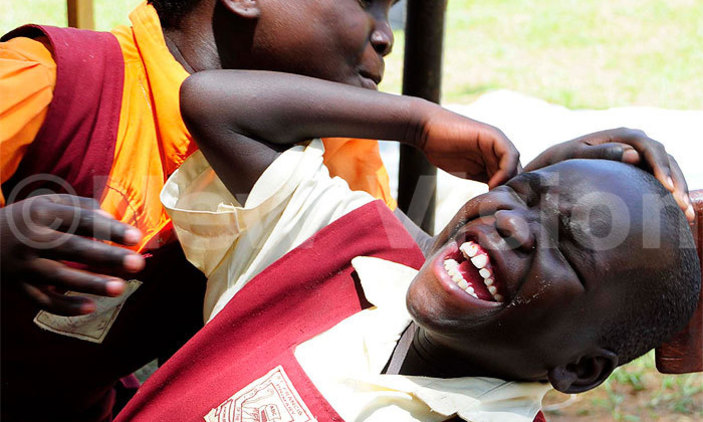 In 2014, Amoding went to St Francis Primary School, Madera in Soroti but was not enrolled immediately.
She mumbles lyrics as she tenderly strokes the keys on an accordion. Six-year-old Noella Amoding is so social and full of life that at first glance, one may not notice her visual impairment. Even for a visitor, tracing Amoding is easy.
"You mean the blind girl. She is about to come here. We like her because she is friendly," says a resident. Amoding speaks Ateso and English.
According to residents of Pamba Zone in Soroti, where she lives, in order to win arguments when playing with her friends, Amoding uses English, leaving them in awe. They often wonder how she learnt a language they are struggling to speak. However, behind her happy disposition is a tale of misery, pain and abandonment.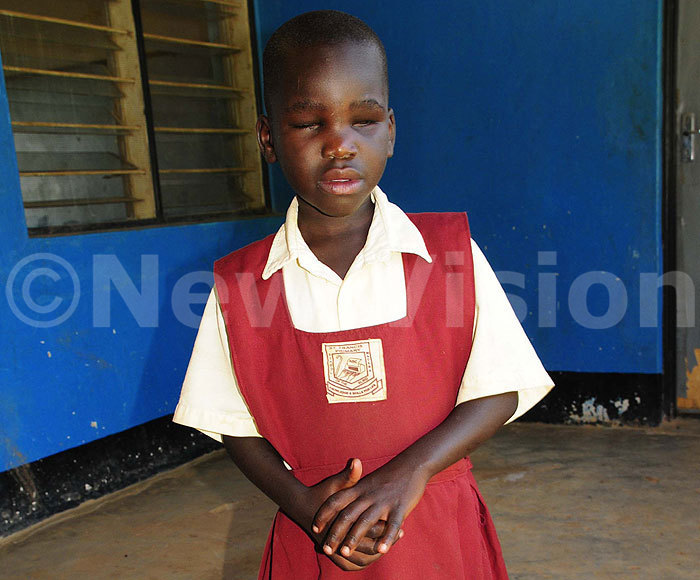 Noella's Story
Amoding lost both eyes in infancy and thereafter, her parents abandoned her. Amoding's father considered her a curse in the family. Her mother suffered a mental break down when Amoding became blind and failed to take care of her.
In 2014, when she was only four years old, Amoding went to St Francis Primary School, Madera in Soroti but was not enrolled immediately because the institution does not have a nursery section. The school has primary and secondary sections for visually-impaired children.
The headteacher, Sister Mary Kevin Nasirumbi (pictured below with her), initially resisted admitting Amoding because of her young age, but agreed after learning that the girl had been abandoned. Today, teachers and matrons at the school say Amoding looks beyond her disability to enjoy life to its fullest, but this was not always the case.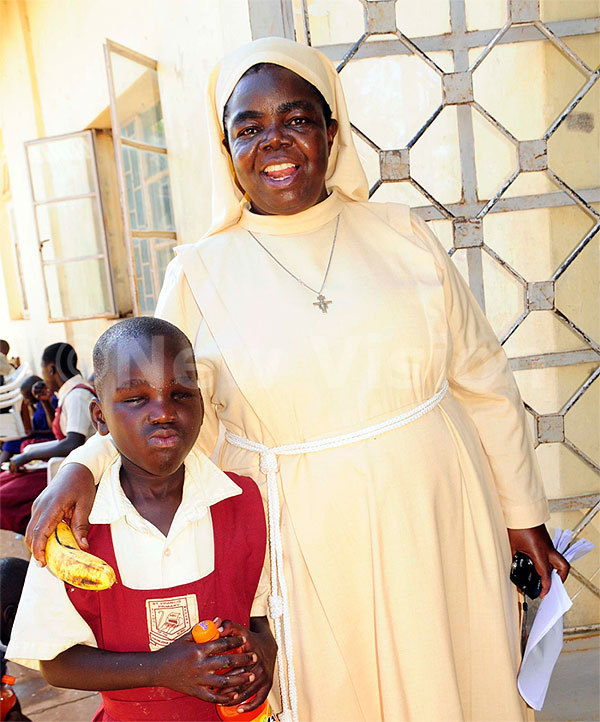 A New Beginning
In her first year at Madera, Amoding, who lived with the matron, was tasked with learning her way around the school and personal care such as bathing and doing house chores. Mastering the school geography did not come easy. Amoding would run into walls, trees and flower beds. Whenever this happened, she would weep while calling for help. The teachers restrained other people from helping Amoding. This was meant to help her become independent and their efforts paid off. Last year, Amoding joined Primary One, can move around without help and is learning how to use braille.
However, sometimes Amoding upsets the matron, Lydia Wasembe. She sneaks into her room and picks her one-year old baby, Nibra Musuya and carries her outside to play. This scares the matron, who has been at the school for two months. "Leave my baby," Amoding clung to Musuya, when a pupil was sent to pick the baby from her.
"She is friendly, but I get sacred whenever she carries my baby, I fear they might fall," says the matron. Another female teacher says Amoding loves playing with the baby and does not heed warnings to stay away from the infant.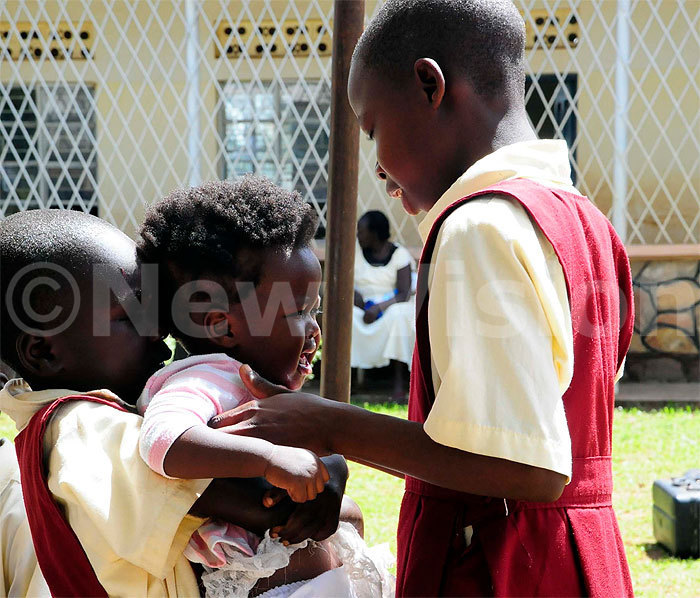 When the matron gets tough Amoding painfully gives up the baby and calls on her friends to play with her, sometimes without success. She then goes for her accordion, her other companion.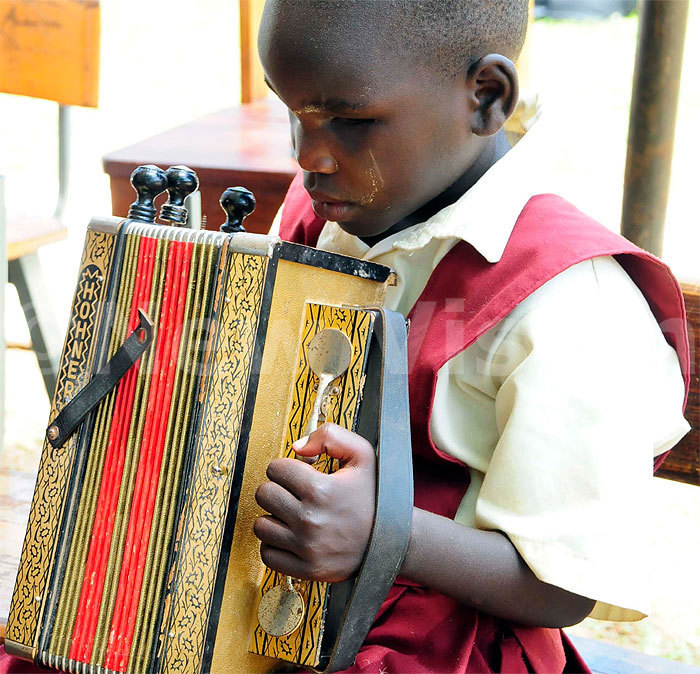 Amoding's class teacher Anne Grace Elilu is, however, impressed with her progress. "She can now bathe herself and fetch a five-litre jerrycan from a tap in the school compound. She also goes to the dining hall, eats her food and can dress herself," Elilu explains.
Amoding's major learning challenge is using the braille.
Amoding's early life
Florence Adong, a Police officer attached to the children and family unit at Serere Police Station, said she picked Amoding when she was about three years old. Adong lived with the girl for about a year. Before Adong adopted her, Amoding lived with her mother in Soroti town, but gave her little attention. Amoding's mother would abandon the helpless child in her room whenever she went for her own business. "That girl was on the verge of death," Adong recalls.
She explains that Aguti, used to lock the baby in her room in Pamba Zone, Soroti where she would crythroughout the night. The baby was never given food and neighbors feared for Amoding's life.
Adong says residents used to call the Police whenever the baby cried throughout the night, until one woman broke into the room and took the baby to the Police. Adong arrested the mother the following day. "She refused to co-operate even when the Police offered her counseling services. The Police decided to keep the child," she adds. For one year Adong lived with Amoding. During that time, Adong attempted to find out how Amoding lost her sight, in vain.
Adong says Amoding's mother would keep quiet or walk away whenever the issue came up. Adong would sometimes spend days looking for Amoding's mother in Pamba zone, but neighbors always feign ignorance, asking her to check in the evenings at two night clubs in Soroti town where she was known to hang out.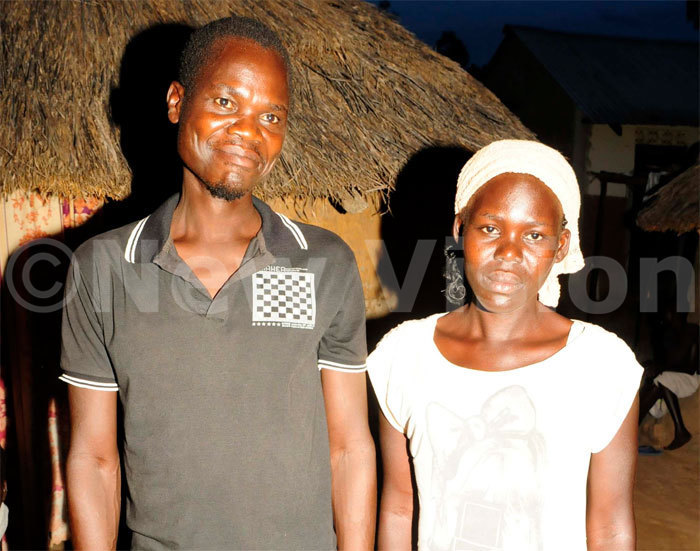 Adong eventually traced the girl's father, Joseph Atisai, but when she pressed him on why he was not bothered about his daughter, he said in their family they do not give birth to blind children. Some relatives referred to Amoding as ekisiraani, which means curse.
Adong says she eventually gave up on the parents after learning that Atisai was a habitual criminal who was arrested on several occasions for various offences including smoking bhang. She says she learnt that Aguti was also a young mother who failed
on her parental obligations especially because the child is visually impaired, who she thought was blocking her from enjoying her youthful life. When Police and eventually Global Care took over the child's care it was a big relief.
Adong later took Amoding to Madera school, but she needed a sponsor.
After several attempts, Global Care took on the child.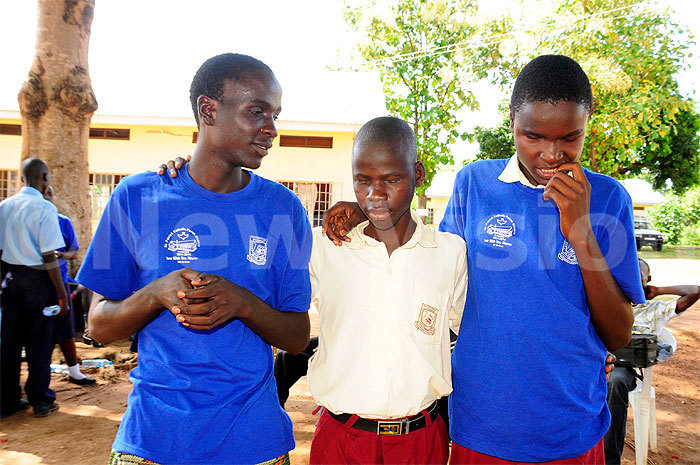 Fred Owere, the Global Care area manager, says they took on Amoding in 2014. The organisation rented a room for Amoding and the mother in Pamba Zone and offered to help them. The organization also tried to meet their basic needs and offered to train
Amoding's mother in tailoring to enable her to earn a living. She, however, continued abandoning the child and refused to feed her.
"Amoding's mother would hang around bars and nightclubs," says Owere.
Owere says the organisation took on Amoding and hired a matron, who looks after her at their office in Pamba Zone. Amoding spends holidays at the organization, but her mother has never visited her. However, many children gather to play with Amoding because of her charming character.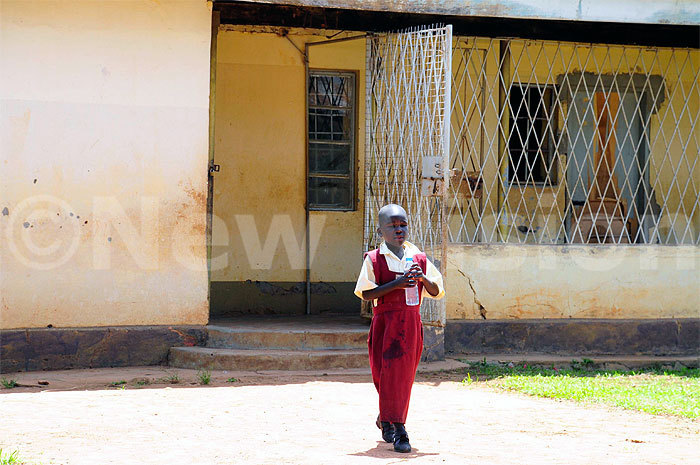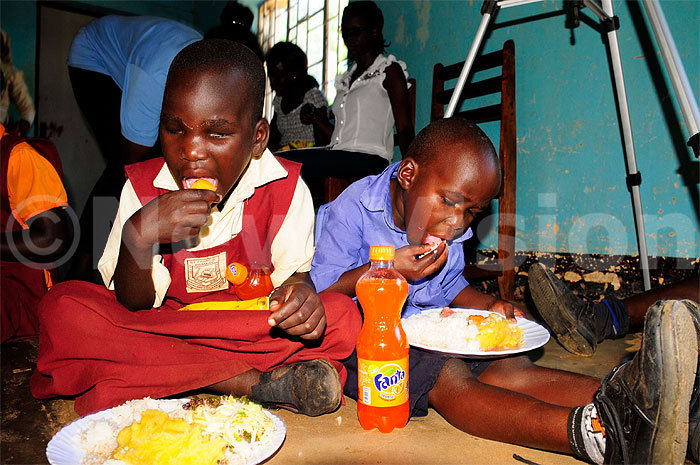 Owere says some parents usually invite her to their homes to play with their children.
However, her teacher, Elilu, says although Global Care takes care of Amoding, they often take long to respond to requests for her upkeep. She survives on handouts from other children, who share with her their personal items. "She has no toothpaste or soap. She does not have any other clothes apart from her uniform, she wears her single pair of shoes all the time because she lost her slippers," Elilu notes. Her teachers are, however, bothered that Amoding's family abandoned her.
Since 2014, when she joined the school, teachers say none of Amoding's parents or relatives has checked on her.The school does not know her parents' whereabouts though both Amonding's parents live in Soroti town oblivious of her presence. "We heard that her father died during the Lord's Resistance Army insurgence and that her mother became mentally ill after Amoding lost her sight," says Elilu.
But Amoding's father, Atisai, 22, lives a jobless life in Usuk Cell in Kikinjagye Ward in Soroti town and her mother, Diana Aguti, has no permanent place of aboard.
Joyce Akullo, Atisai's sister, convinced him to open up when Fred Owere, the area manager of Global care, an organisation that looks after Amonding, approached her. Atisai said he was unable to look after Amoding because he is unemployed and that he had resorted to drinking to 'overcome his poverty stress'.
In his version of the story he said the mother went to work as a maid in Kampala when Amoding had just been born. "I heard rumours that she stole money from her boss and fled, leaving the baby behind. The boss later phoned her to pick the baby, only to
find she (boss) had poured acid in the baby's eyes," he says. Atisai says the mother later abandoned the baby with him, yet he could not afford to take her to hospital.
"She came and picked the baby and the next time I saw her, the eyes had been removed. Aguti refused to explain to me how it happened," he says. As the interview progressed, a neighbor made a comment which upset Atisai so much that he left in a huff, threatening to harm the old woman. His brother also threatened to rough up the woman, only to be restrained by Charles
Ongorok, the area local council chairman. The woman had accused Atisai of neglecting his child yet he had another baby whom he was looking after well, but because Amoding was disabled. Akullo says Aguti had no permanent home and was always moving about with a group of girls, who hang around nightclubs.
However, Lady Luck smiled when Aguti appeared during the interview. She was in the company of three young women.
"You are lucky, there she comes," a relative, who had earlier heard me ask for her, remarked. When told that Aguti had arrived, Atisai came out to hear her story. Aguti gave another version of the events different from what the Police or the teachers know.
"One day, I left my baby in the house and when I returned, I noticed that something was wrong with her eyes. I took her to Mulago Hospital and the doctors told me that someone had poured acid in her eyes. They referred me to a clinic in Tororo, where both eyes were removed," Aguti said, but refused to reveal any other details.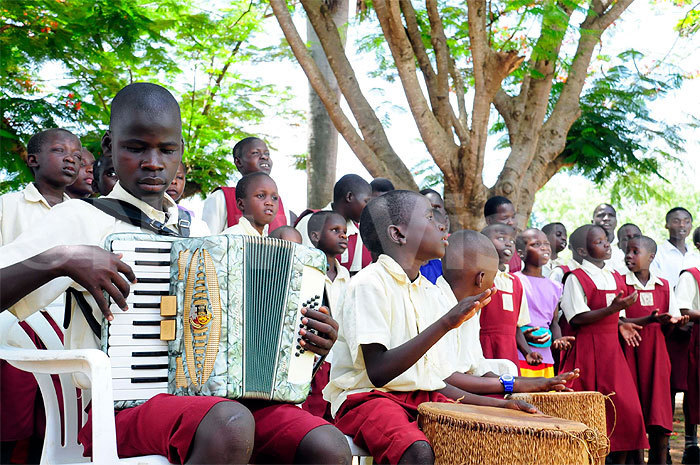 Similar cases of abandonment at Madera school
Sister Mary Kevin Nasirumbi, the head teacher of St. Francis Primary School, Madera, says the majority of children at the school come from poor homes. She says many of them have been abandoned by their parents.
"Most of them find love at the school because they were abandoned by their families. Such children listen and are creative although we have the slow learners too, who need a lot of patience," she explains
The school has three blind siblings; Godfrey Ochieng, 16, Emmanuel Owor, 14 and John Owor, 12, who came from Tororo, but for the last six years, none of their parents had visited them.
Ochieng said their mother, Mary Owor, abandoned them when she gave birth to the third blind baby. He said they were raised by their aunt, Keturah Nyapendi. He said their father, Augustine Owino, abandoned them, saying that they were born blind, after his mother (Owino's mother) cursed him, accusing him of harassing his younger brother, who was also blind. "Our father has never visited us," Ochieng said. The three brothers have composed a song condemning parents who curse their children, while the youngest has composed another song titled 'Dad, I want to hear your voice'.
The brothers are members of the school band and spend most of their time singing.
Madera school profile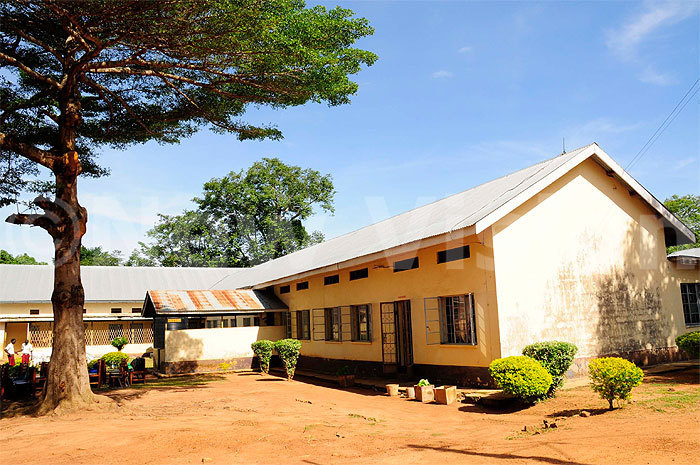 St. Francis Primary School for the Blind Madera was founded in September 1955 by the Franciscan Missionary Sisters for Africa together with the Little Sisters of St Francis with the help of the Teso Education Committee in the then Teso District Administration that was working together with the Uganda Foundation for the Blind.
The founders realized the need to educate the visually impaired child, but the head teacher, Sister Nasirumbi says at the time many people did not see the need of educating handicapped children on assumption that they are useless. The institution, therefore, found it difficult to get support from parents. The majority of pupils come from poor and illiterate families. Some are orphans while others have been neglected by their parents, and according to Sister Mary Kevin Nasirumbi, it is always a challenge to convince parents to bring these children to school since they regard them as useless.
The institution provides medical care, social skills, nutrition, guidance and counseling services, life skills on top of primary education curriculum. The school, however, is faced with challenges that include lack of instructional materials, lights, conductors and renovation of dilapidated structures, the other challenges are shortage of furniture, maintaining children with basic needs, lack of computers, remuneration of staff and lack of transport for children to go for exchange educations visits. The school has 15 teachers. Of these, one teacher is on sick leave, another is processing a sick leave, one has just retired and another is on study leave.
Drop in the Bucket intervenes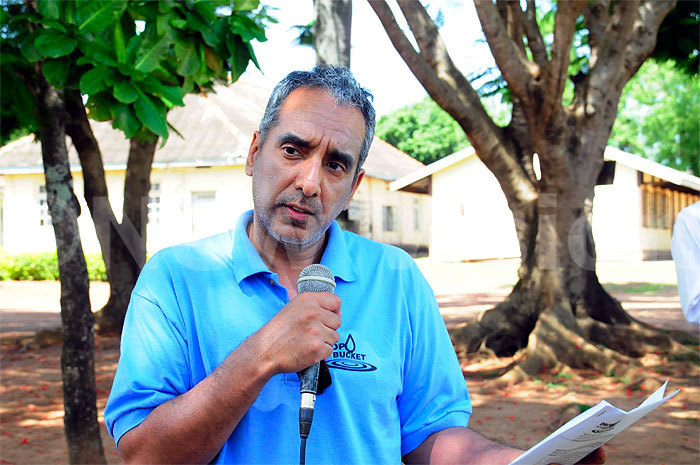 According to the head teacher, Sister Nasirumbi , the school has been facing a serious water crisis and the children with visual impairment have suffered for long accessing clean water . This was after an electric pump that generated water blew. Teachers sacrificed the morning lessons for the children to fetch water from a community borehole but residents were not friendly, until one day, Julius Olobo, the area manager of Drop in the Bucket, a US-based not-for profit organization visited the school. He saw the nightmare the children were faced with and decided to take on the project of providing water for the children at school.
The organization, based in California, is headed by John and Stacey Travis and constructs wells and sanitary facilities for schools and communities in Teso and Northern regions, as well as South Sudan using funds provided by various sponsors.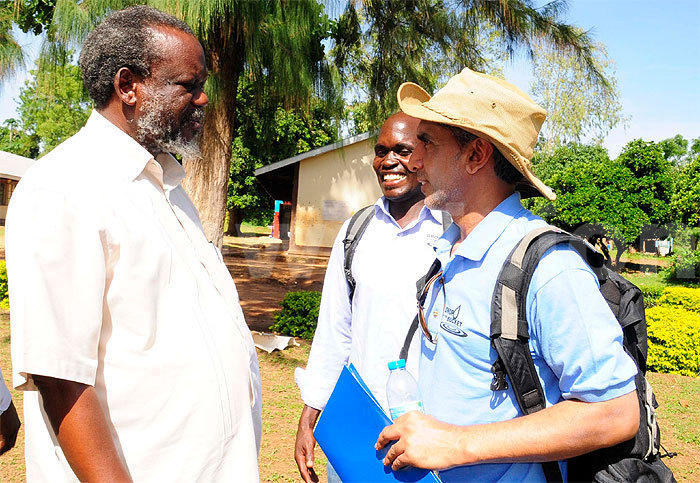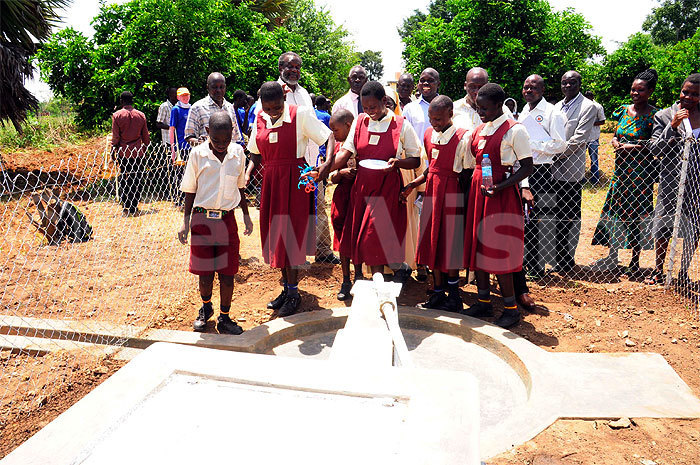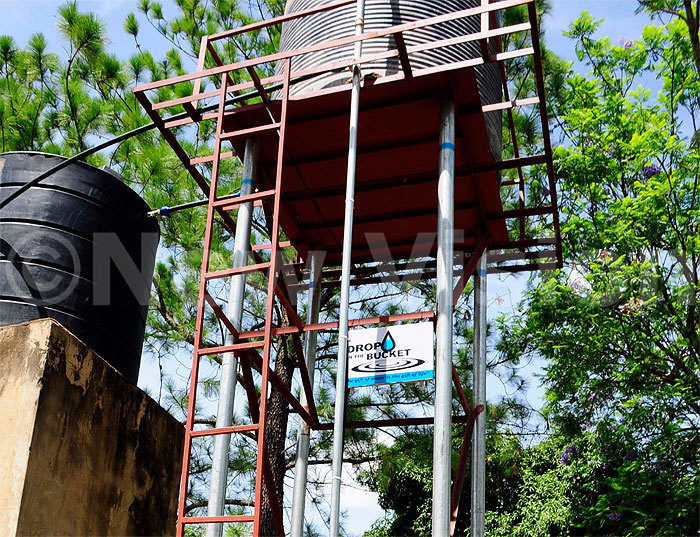 Olobo says their mission is to assist community development to enable children, especially girls to receive an education and realize their full potential. He said they construct and rehabilitate school boreholes and institutional latrines, as well as software initiatives such as the formation of water user committees plus village savings and loan associations.
Olobo says they took on the project because sanitation and personal hygiene was a big challenge for the visually impaired children at Madera, especially by using pit latrines, with the difficult unhygienic process that always caused diseases. Lack of hand washing facilities also spread diseases among the pupils. He says Drop in the Bucket started in 2009 and has so far sank 350 wells in Teso, Lango, Acholi and Central regions as well as in West Nile and South Sudan.
At Madera, Drop installed a solar water system that supplies clean water to the entire school community. In addition they constructed modern water-borne toilets and showers for both girls and boys and pupils can now access appropriate flush toilets, showers, hand washing facilities and modern urinals which have improved hygiene and general cleanliness at school and improved the health of children.