Today is International Women's Day and to commemorate it we decided to share the story of a woman we recently met in Uganda. Meet Betty.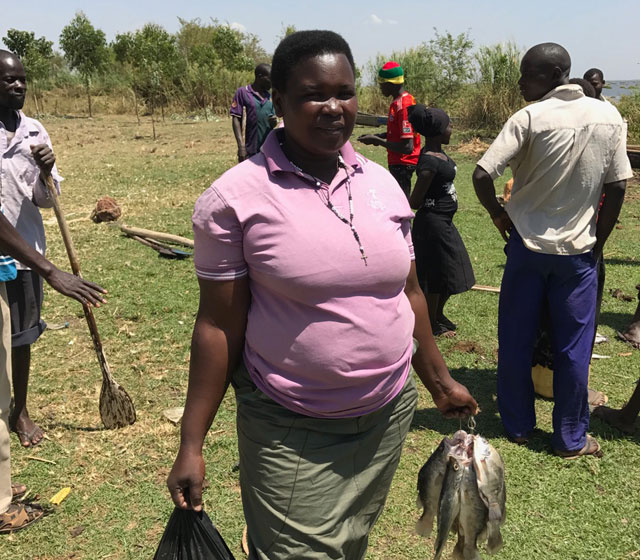 For most of her life Betty has been a housewife who had to rely on her husband when she needed anything. Her family could not afford to send her to school and educating girls was not considered a priority. Betty is determined that her children will not fall into the same trap.
Betty has always been ambitious, but had a hard time finding anyone who would listen to her. One day, one of her neighbors told her about a local savings group he was a part of.  The non-profit organization Drop in the Bucket had drilled a well at local School and had set up the group. Her neighbor suggested that she come to a meeting to see if she was interested in joining. At the meeting, she saw her neighbors applying for loans and using them to start small businesses. She immediately knew she wanted to join.
Betty took her first loan of 100,000 UGX ($28) to Lake Kyoga where small boats would come in loaded with freshly caught fish. Betty inspected each boat as it came in seeking out the highest quality fish and haggling for the best price. Once she had spent all her money, she carried the fish back to town to the local market.
After making a small profit the first week selling to local vendors, she noticed that other towns would come to the market and buy fish from those vendors a higher price. The next day, she decided to wait for them on the road into town and sell to them directly. Her plan worked and soon she was making a much larger profit than any of the other vendors. She also noticed that people would pay more for dried fish, so she quickly learned that skill too.
Betty's life has changed! All of her children are in school and she is proud of the fact that she can easily afford to feed, clothe and educate them. All Betty had ever hoped for was that someone would believe in her and give her a chance. That chance came when she joined the savings group. A small loan of just $28 changed the whole course of not just her life, but also the lives of her children.
Today we celebrate Betty and millions of other women like her. Women who can take something small and turn it into something powerful. Happy International Women's Day! Today we celebrate together.