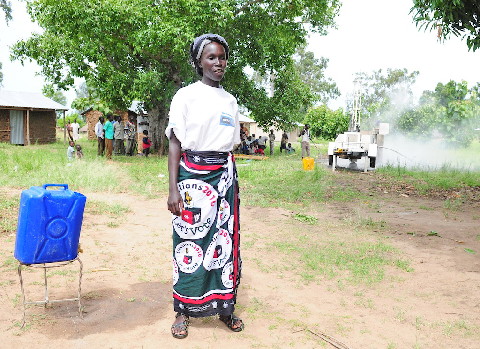 The name of the woman pictured here is Gune Sylvia Mikaya. She is the Headmistress of the Lire Secondary School in South Sudan.
She graciously allowed us to interview her after the well was installed at the school.
Question: What is your educational background?
Answer: Because of the civil war in Sudan, I had my education in Uganda right from the lower level to the University of Makerere where I graduated with a degree in Education.
Question: When and how did you join Lire Secondary School?
Answer: (she smiles) I joined Lire Secondary as the Headmistress in 2007 after the person who was the Headmaster before failed to satisfy the expectations of the Board of Governors.
Question: How has the water situation been in this school?
Answer: The situation has been worse, especially when students have to move two kilometers to the nearest borehole . This has not only been hectic, but time consuming as well. It has also been making it very hard to control the discipline of the students. What makes it worse is when students fight with the community for water because of who should take water first.
Question: Would you like to pass a message to the donor?
Answer: (she pauses for a minute) I actually have run out of words, I don't know where to begin and where to stop.  I appreciate the donor for providing us with very clean and abundant water, which I know will save our lives, save us time and improve community-school relationships.
Question: Are there any challenges you have had to face?
Answer: Of course!! As a woman controlling the behavior of men on the staff, it is hard given the cultural background of women being under men. But I keep myself focused and ready to meet any challenge.