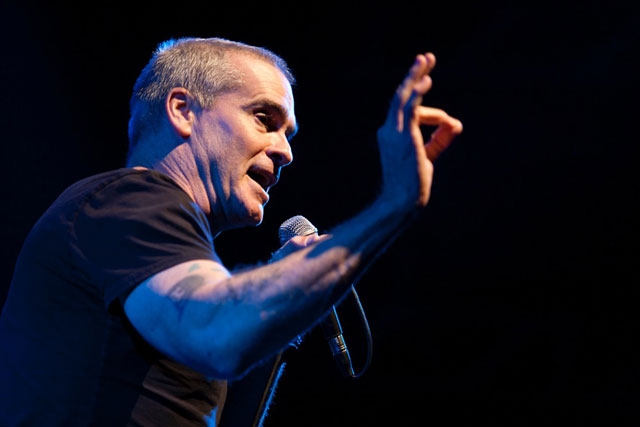 It's not like anyone is going to debate that fresh, drinkable water is a necessity that's becoming increasingly hard to come by. But for Henry Rollins — tireless spokesman for well-building charity Drop in the Bucket — it's about remembering that there is a way to help people in parts of the world that don't have nearly as much of it as we do.
On Wednesday, the longtime activist and punk pioneer gathers with friends from various corners of the rock world at the Avalon in Hollywood to raise money for Drop in the Bucket. The goal of this nonprofit organization, founded by John and Stacey Travis, is to build water wells and sanitation systems for schools sub-Saharan Africa. Wednesday night's bill, headlined by Corey Taylor of Slipknot and Stone Sour, also includes Dave Navarro and Stephen Perkins of Jane's Addiction, Scott Ian of Anthrax, Mike Watt of Minutemen, and Kira Roessler, Rollins' former Black Flag band mate.
Since becoming involved with the charity three years ago, Rollins has gone from a voluntary keynote speaker to an all-out advocate for a cause that most don't think about on a daily basis.
"When you take a shower, you never ask yourself if water is gonna come out of that spigot — it's just a no-brainer. In other parts of the world [water] is a more priceless community," Rollins said in a recent phone conversation. Having been to various parts of the world — farm towns, slums and shanty towns in Cuba, Madagascar and Haiti — Rollins was more than willing to hop on plane (several, actually) to do a three-week stint in South Sudan last year to see the work DITB is doing first hand. With his help, the charity embarks on its largest fundraiser to date at the Avalon at a time when most people are tightening their belts. "I don't think anyone is gonna debate that Drop in the Bucket is a great thing," Rollins said. "But what is up for debate is can people really afford to give you ENTERTAINMENT bucks when they're looking at my gas tank, their rent, their stomach and their kids? I understand that we're trying to tap people that are pretty damn tapped."
Fortunately,the musicians Rollins helped gather for the organization were ready to hit the stage for the cause, especially Taylor, who had worked with Rollins on a benefit album in 2002 to raise money for the West Memphis Three. "He really stepped up," Rollins said. "He's our rainmaker, as it were."
Though he acknowledges this year's ambitious event came around on pretty short notice, he says Drop in the Bucket is already planning on making this November fundraiser an annual event.
Says Rollins: "There's a steep learning curve for the organization as far as doing something like this and they're getting it. But I think that by this time next it'll be even stronger and even more rockin'."