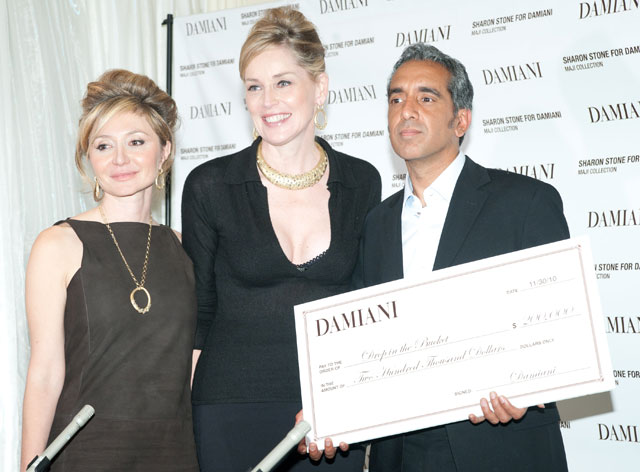 Sharon Stone and Damiani collaborate once again in a new collection of jewelry, the MAJI COLLECTION for WOMEN, co-designed by the renowned Italian jewelers and the Hollywood star. The collection was recently presented in an event at the Beverly Wilshire Hotel in Los Angeles.
In the first MAJI collection (in Swahili, Maji means "water") the materials used evoke the warmth and natural heritage of Africa: rough diamonds, all different and unique in their imperfection; burnished gold, warm and embracing like the atmosphere of Africa, and burnished silver, with an intense color, capable of creating a piece of jewelry with powerful and distinctive character.
The result is a collection of rings, pendants, earrings, and tennis bracelets, in which the materials interact with geometrical shapes to produce unusual and innovative creations. Satin finished yellow gold combines with rough diamonds, artfully set and arranged in an irregular pattern, creating an "unfinished" effect that makes each piece unique.
AN EVENT FOR THE INTERNATIONAL LAUNCH OF THE MAJI COLLECTION FOR WOMEN.
Sharon Stone and Silvia Damiani hosted the event for the international launch of the Maji Collection for Women, that has a charitable character: part of the proceeds will be donated for the construction of clean water wells.
DROP IN THE BUCKET
During the event both women presented Mr. John Travis, Co-Founder of Drop in the Bucket, the non-profit organization responsible for building wells for the extraction of clean water, with a check in the amount of $200,000 which, along with a private donation from the Damiani family, will underwrite the construction of 50 new water wells in Africa, providing clean water to more than 10,000 people.