At DROP, we love sharing stories of our work but it's always nice when someone else see the significance of our work and decides to share it, too.
Below is an article from Uganda's largest newspaper, the New Vision. We were pleased with the piece but need to point out one inaccuracy: The story says that the technology behind the toilets is from South Africa. In reality, we first designed and began building these types of sanitation systems in Uganda in 2007 using a roundabout pump we had custom built. The South African based NGO, Water For All, donated 20 similar pumps, one of which was used for this project.
This particular school project was made possible by a donation from an Ohio-based company called Earnest Machine. Every time a donor sponsors a well, we like to include an inscription of the donor's choosing, and Earnest Machine decided to have us inscribe their slogan, "Intentionally Better." We loved those words because they a standard for something to aspire to for everyone involved in the project, from Earnest Machine to DROP to Hope Junior.
The school is new performing better than ever at their end-of-term exams. Before the toilets, many children—primarily girls—were forced to drop out. Not only are many of them back in school now, but other kids in the district are coming to the school as well. Since we built the toilets, the school has hired new teachers and added three buildings, including a separate nursery school. Now allow New Vision to share with you our latest success story.
New Vision – April 11th 2015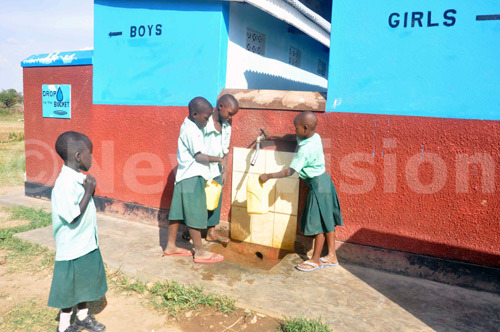 Photos and text By Francis Emorut
Government has been asked to adopt new flush toilet technology from South Africa for schools across the country to curb poor hygiene.
The flush toilets technology the first of its kind has been installed at Hope Junior School in Soroti district.
According to Julius Olobo the manager of Drop in the Bucket the new technology has become a model of learning in Soroti district.
The toilets are clean and are used by a population of 324 pupils of Hope Junior School.
Water and sanitation officers in eastern region appealed to government to replicate the technology countryside to combat poor hygiene and relief from a burden of digging pit latrines after they become full.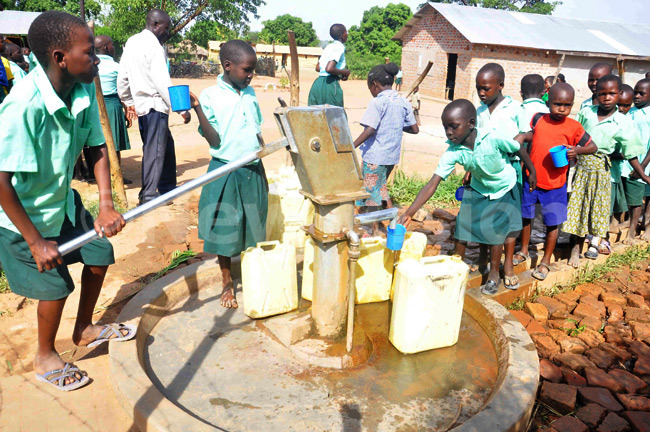 "The government should take advantage of the new technology and spread it countryside," Bony Komakech, the environmental health officer in Nakapiripirit said.
Komakech was supported by Ronald Ssebuliba a technical water officer in Wakiso district who said the new technology would facilitate good practices of hygiene and therefore, government should spearhead the crusade to have such facility installed in every school.
Sr. Christine Nanyazi the head of women's Group in Kaabong district said the new flush toilet technology is ideal for schools since they have big population and it will promote good hygiene
The flush toilets are constructed in the form of pit-latrine separated for both boys and girls but has underground water tank of 4,000 litres while the tank erected up contains 1,000 litres of water.
The two tanks supply constant water to the toilets using a motorized system.
The motorized system is connected to the borehole, wheel pump and to the tanks.
"Many interested parties including the ministry of education have visited this place to learn how the flush toilet technology works," Olobo the manager of Drop in the Bucket told water and sanitation regional officers.
The water and sanitation officers were in a field tour organized by Water and Sanitation Network Uganda (UWASNET).
Olobo explained that technology is the first pilot project in Teso region while in Acholi and Lango sub-regions the technology is available in six and five schools respectively.
According to Olobo the technology was borrowed from South Africa and it costs sh80m.
Olobo said the flush toilets can be used for a period of 20-50 years. It has septic tank.
He said it's ideal because it saves school administration from constant digging of latrines.
"It has become a centre of learning in Teso region," Olobo said.
The cleanness of the toilets has contributed to retention of girls in school.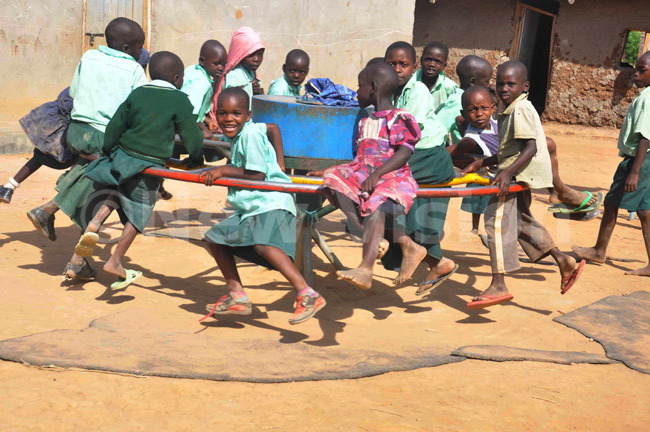 "Because the place is clean the menstruating girls can pad themselves," the school's headteacher Julius Edwonu noted.
Edwonu also pointed out that both the boys and girls supervise each other and this ensures cleanness for both toilets.
The technology enables pupils to sit on the wheel pump (popularly known as Mary go system) and rotate themselves around moving in a faster speed.
Earlier the water and sanitation officers were trained in documenting success stories in the water and sanitation sector.
"You should be able to document a success story that informs your partners of achievements made in water and sanitation," Rehema Aanyu the UWASNET liaison and advocacy officer said.
The water and sanitation officers promised to ensure that the flush toilet technology is adopted in their respective districts.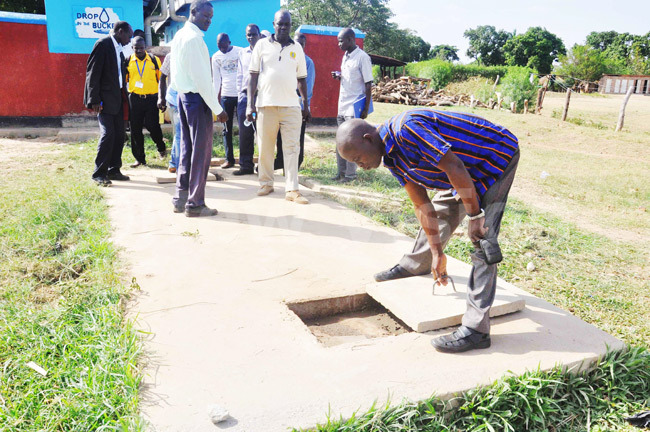 This article was originally published in Uganda's New Vision newspaper. To view it on their website please go to this link.