During the last few months of 2020, Drop In The Bucket launched an initiative to drill twenty wells at twenty health centers in the Pader district of northern Uganda. The campaign was a direct response to the Covid-19 pandemic, and addressed the grim reality that many of the region's health centers were struggling to provide clean water for their patients. No water to wash their hands. No water to ingest medicine. No water to facilitate treatments, and no water to help with general hygiene and cleanliness. 
The situation was dire and required immediate attention, so we started an online campaign. The response from our donors was also immediate, and within just a few months we had all of the funding we needed to drill those twenty wells – and more. Our drillers are currently in the field, and work is progressing fast and efficiently. We are expecting another three wells to be completed this week, and there are no plans to stop working until all of the health centers on our list have clean water.
What difference can one well make?
Latigi Health Center II is a new facility, built in a recently updated building that houses both the healthcare facilities and staff quarters. But Latigi does not have running water. The only nearby water source is a well that broke down several months ago. This means that the health center staff have to walk several miles to a distant community and stand in a long line at the well, then walk back carrying the water. Without this water, they can't clean their instruments, they can't clean the facilities, and they can't treat patients. This is also the only water they have to drink.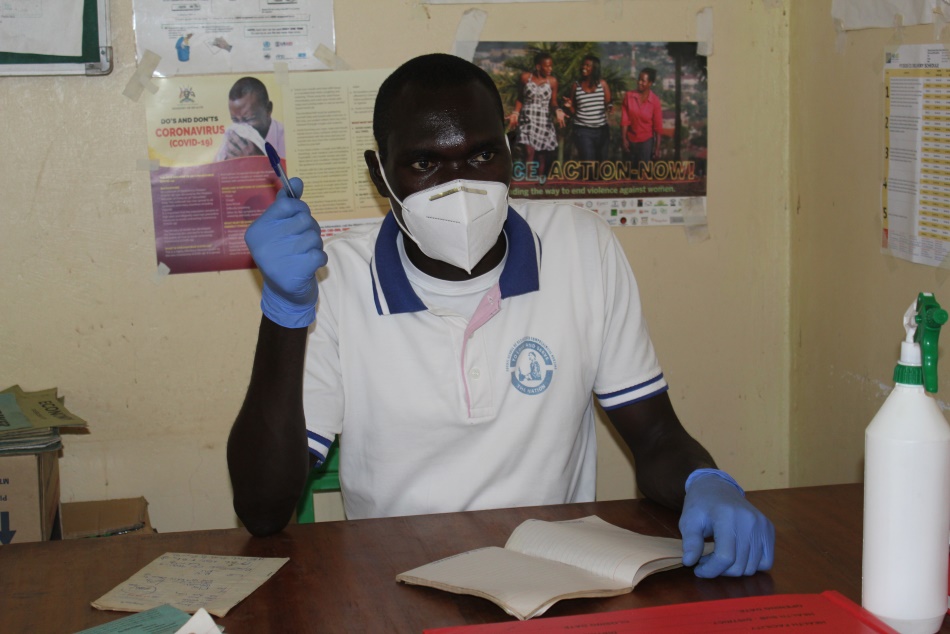 Salva Abaa is a nursing assistant at Latigi. He cares deeply about helping his community, but these days he spends far more time hauling water than treating patients. "The people who come here suffer a lot," he tells us. "They come to my home asking for drinking water." He is more than happy to help out when he can, but with so little water available, he can't even clean his cup and dish after each use.
The Ugandan Ministry of Health has recommended that every health center should be thoroughly cleaned and sanitized twice a day. Salva and his coworkers struggle to maintain these standards, but without an easily accessible water source the extra labor leaves them exhausted. Due to the lack of running water at the facility, Latigi is not treated as a priority by the government agency in charge of distributing medicine, and Salva says that deliveries are regularly late and the center is inadequately stocked. This means that even after working hard to gather water for the facility, they sometimes have to turn patients away due to a lack of medicine. For Salva – and the countless health care workers like him – not being able to help people in need is the toughest part of his job.

Twenty wells is not enough. We can't stop until no patient is turned away – and clean water is where we can make the greatest difference. As we know from our own battles with Covid-19, personal and social hygiene are the easiest ways to stop the spread of communicable diseases, and we plan on continuing to raise money so we can keep drilling at more health centers and schools throughout the pandemic, and beyond. 
For a moment, think about how difficult it is to start your day without brushing your teeth. Or how you'd feel preparing your family's food without being able to wash your hands all day. Or merely the thought of turning on your computer without that first cup of morning coffee. Think about how exhausting housework can be… Now think about carrying ten, fifteen, twenty gallons of water several miles – all before you can even start your work day.
Can we really make a difference from the other side of the planet? Just ask the doctors, nurses and health care professionals who are working around the clock to provide relief to people not only suffering from Covid-19, but countless other ailments we take for granted. 
Take Salva's word for it – every dollar helps. 
Thank you for your continued support.