This article was originally published in the Santa Monica Observer Newspaper on July 9th 2015
Local couple shining a light for sight impaired children in Uganda.
The first time Los Angeles transplants John & Stacey Travis traveled to Africa was in 2006. Their careers in entertainment had earned them some success, but left them feeling compelled to do something to give back. That opportunity came with an invitation to accompany some doctors from Stacey's hometown on a medical trip to a small village in rural Uganda.
The doctors they were traveling with were setting up makeshift clinics to treat people for a variety of diseases. John, Stacey, their friend Cassie and a handful of other volunteers were tasked with wrangling the crowds into orderly lines.  It became quickly apparent that the doctors and volunteers had a big task ahead of them. "Literally everybody was sick with something," said Stacey.  "And almost all of it was caused by the dirty water they were drinking. We knew we had to do something to help but we knew we had to get to the cause rather than just continuing to treat the symptoms." The solution had to involve better drinking water.
After looking into various filtration systems and other ways to clean water, they found that the most cost effective and sustainable solution was also the simplest: drilling water wells!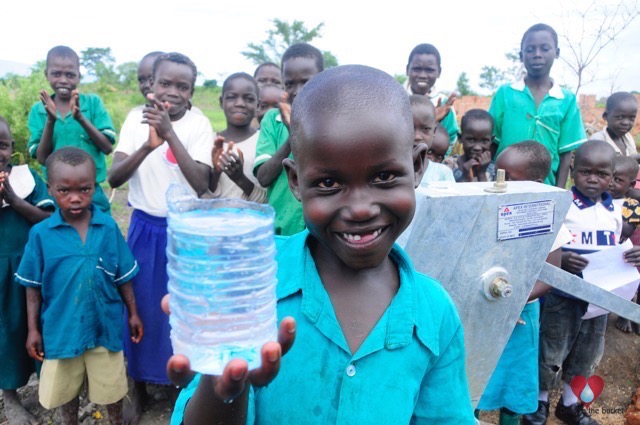 That trip to Africa became the start of a long and unexpected journey that has now grown into an organization called Drop in the Bucket, a group which has now completed over 300 wells in East Africa.
One of their most ambitious projects is one they are currently working on at the St. Francis Madera School for the Blind in Uganda.  The school opened in 1955 and is the only school solely dedicated to educating visually impaired children in the country.
Being a child in rural Uganda already presents several challenges… being a blind child, considerably amplifies those challenges and adds many more. There are no paved roads, so every tree stump, pothole or rock becomes a hazard.  Unable to defend themselves, they are at risk of child abuse, abduction and abandonment. So often, out of protection, the children are kept in a very sheltered existence of a small village, a few huts or sometimes just one room. These children have had to struggle to survive.
Like many of the schools in Uganda, Madera was built out of necessity. Visually impaired children did not have facilities that could treat their specific needs. In fact, local communities often didn't see the need to educate handicapped children at all.
Word quickly spread that there was a school in Soroti that would take blind children. Many parents from all over the country had brought their special needs children to Madera and left them there, never to return. As a result, Madera became a full-time boarding school with students living on campus.
The school turns the future around for the now nearly 200 students. For the first time their lives become full of hope, possibility and potential.
The children are taught to read and write in Braille and receive vocational training, but more importantly, the students develop social skills and friendships they could have never experienced before. They help each other learn and grow as a family.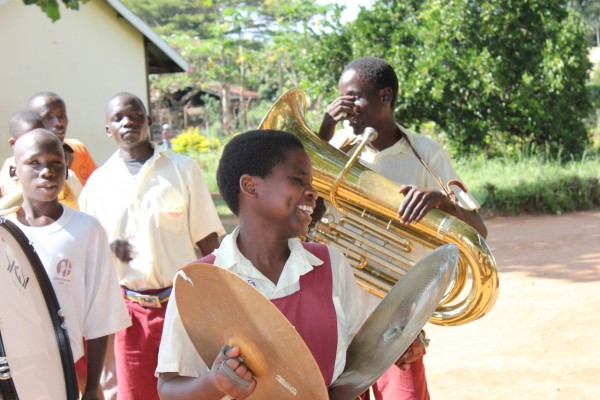 Some of the biggest breakthroughs have occurred through the children's love of music. The school even formed a marching band that performs any chance they get. The instruments they are playing may be held together with duct tape and they may be using large twigs instead of drumsticks, but these kids are happy to be playing music together and put the same energy and enthusiasm into performing as they would if they were playing the halftime show at the Rose Bowl.
Through this marching band, they have discovered a way to connect with each other and develop a strong sense of belonging. The band is bringing the community together through the joy of music.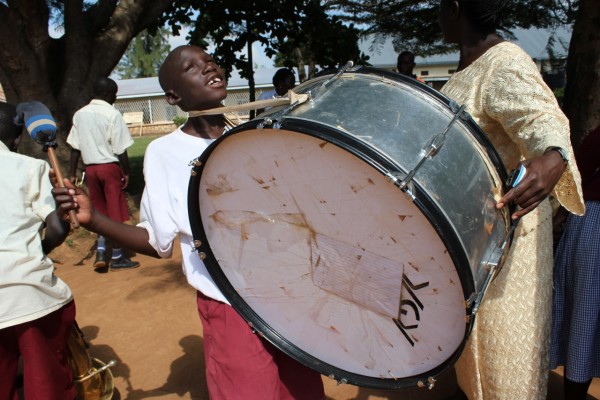 Drop in the Bucket is working with the Madera school to improve the living conditions. Plans are in place to install a solar pump for access to clean, drinkable water, and specially designed showers and toilets for the sight-impaired will be installed in both dorms.
The organization has already raised the money to fund the construction of two sets of toilets for the school, which are currently being built. The toilets themselves are unique in that unlike most toilets in the developing world, they actually treat the sewage rather than just storing it.
They are still raising money to do more work at the school and that includes a specially designed well to supply the school with water for the toilets, the kitchen, hand washing stations and even showers (a first for the organization). "This is the biggest project we have ever taken on for a single school," said John Travis.  "But the children's needs are so specific and unique that almost everything we are doing has to be customized to work for the sight-impaired." He continued, "When you live here in Southern California you end up taking so much for granted. Until this most recent drought most of us didn't have any reason to think about access to water. That all changes when you go to parts of Africa where for most people finding some water to drink is their number one daily concern."
To learn more about Drop in the Bucket and find out how you can help the Madera School for the Blind, please visit: www.dropinthebucket.org/madera