Gardner Denver Donate a new Drilling Compressor to Drop in the Bucket
As the trucks rolled in, all of the children gathered around. They didn't know that this drilling compressor, a gift to DROP from industrial machinery giant Gardner Denver, would dramatically reduce the cost of drilling wells. They didn't know it could enable DROP to drill twice as many water wells a year. All they knew was that by the time the truck rolled away, they'd have clean water at their school.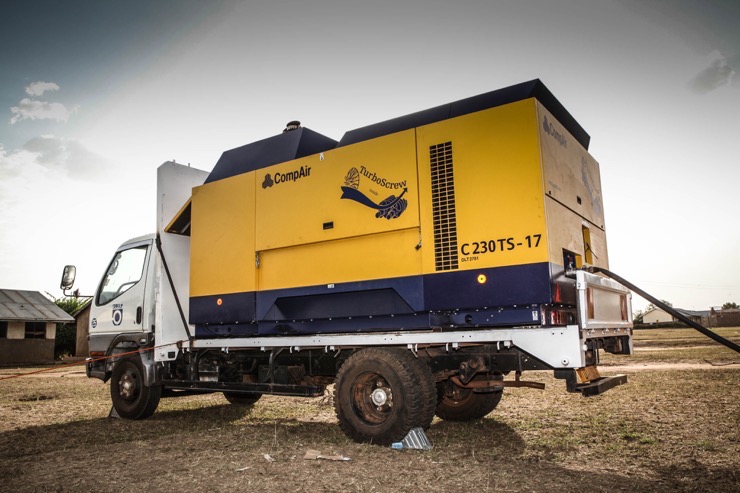 Kyere Township Primary school
The well was built for Kyere Township Primary school, which educates more than a thousand children. It will also benefit Kyere Central and Omirio, surrounding villages that combined have a population of more than 1,000. Before this borehole was drilled, the nearest source of clean water was more than 2 kilometers away. As a result, the local community was more often getting its drinking water from a swamp nearby.
Children and adults alike had struggled to stay healthy. So it makes sense that a crowd gathered to see the drilling rig arrive from DROP's office in Soroti, even though it was before 8 a.m. on a Friday. A second truck carrying the compressor had driven up from Kampala and arrived at 11:30 a.m. By 2 p.m the ground had been broken to mark the start of the drilling process.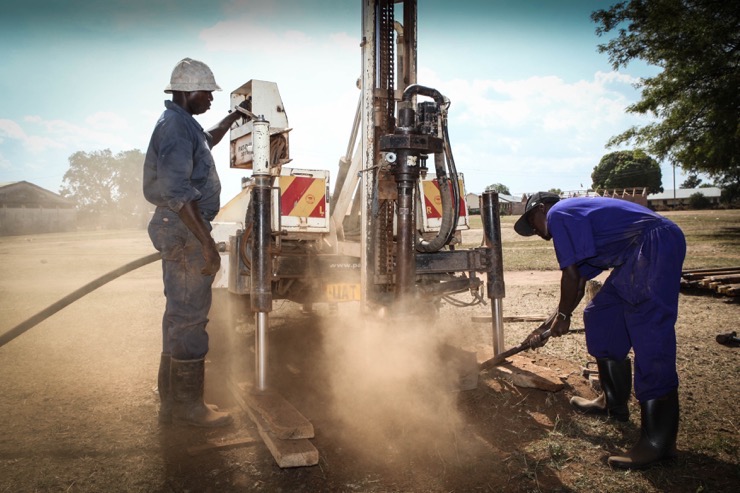 The drilling Process
By 5:30 that evening, the drill had made it through 35 meters of dirt and solid rock to hit mud. The drillers knew what was coming next and didn't look happy about it. Mud drilling, a process which involves digging trenches and filling a large bladder with water to keep water constantly circulating through the drilling hole, is a tedious process. DROP's crew of drillers worked until it was too dark to continue and they had to stop for the night. The next morning, they returned to the mud drilling and were relieved to hit rock again at around 4 p.m. After a final 10-meter push, clean water came gushing out of the new well.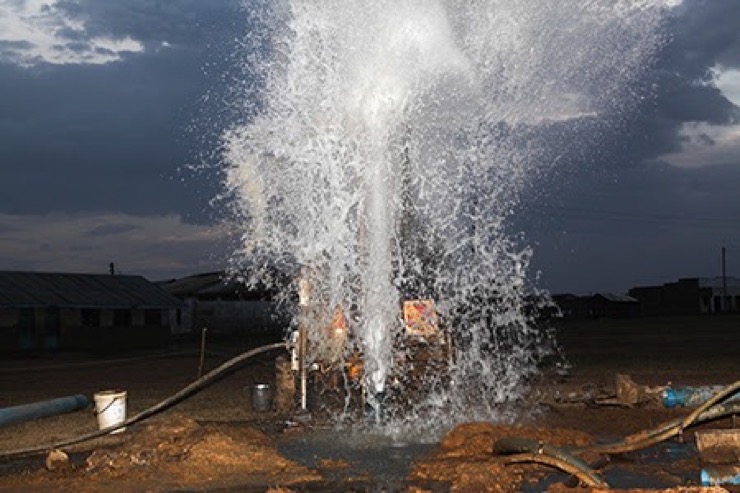 Using the same drilling rig and our old compressor, drilling through a meter of rock would have taken our team a half an hour. With the new CompAir compressor, it took just 11 minutes. This compressor now means DROP can more efficiently use our funds, since we have to spend less money on travel expenses for our crews in the field. "We couldn't be happier with the compressor," DROP co-founder and president John Travis says. "It will literally change everything for our organization in terms of finance and efficiency."
Most importantly, more efficiency means more villages and schools with clean water; it means healthier and better-educated children; and it means more smiling faces like the ones you see in these photos.