Today is World Refugee Day. Drop in the Bucket's team spent the day in the Palabek refugee settlement in Uganda where we are working to provide clean water to the 31,000 South Sudanese who have fled their homeland because of famine and conflict. More than three million people, or a third of South Sudan's population, have fled their homes, creating Africa's biggest refugee crisis since the Rwandan genocide. These refugees have been given a small plot of land in Uganda and are now attempting to start over in their new country.
This morning as we drove out to the settlement to do our work, the reality of being a refugee became very personal. A young South Sudanese student who is being sponsored to attend high school in Uganda is interning with the DROP drilling team for this summer.  His name is John Lual Deng and he is studying Agriculture at Kampala University. Deng grew up in a refugee camp in Kenya during the war.  But because of the opportunity he has been given to attend school, he is excelling academically.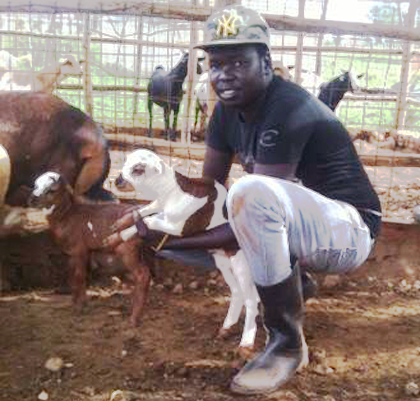 Deng's dream is to teach his people about farming.  He believes that South Sudan has vast potential to grow food and should never experience death because of famine! His dream is for his children to know a life without war and suffering, a place where people live peacefully and abundantly.  His face lights up when he talks about more efficient methods of irrigation and organic fertilizers. His dreams may be big but they are attainable and he is prepared to work for them.
Today Deng is working to provide clean water to the refugee camp. He believes in DROPs mission to provide clean water to these people as they take the first steps toward building their new lives.  They may have only a few possessions but what they do have is hope…. hope for a new beginning…. a land where their children can live without fear….. and a place where they can get an education and thrive.
On this International Refugee Day, as we look around at the Palabek refugee settlement, we do not see the faces of sad desperate people. We see a bit of optimism and a glimmer of a new beginning. We see vast human potential!
Please help us make this possible