Laminogwiri – Where Drop in the Bucket drillers made a new friend for life
When your work involves traveling to remote villages and providing them with clean water, it is easy to make new friends. But sometimes the people you meet become lifelong friends. That was the case with Opiyo Richard from Laminogwiri village in Uganda.
The process of drilling a borehole well starts with a visual inspection. Our advance team scouts the location looking for potential sites to drill.
It was on our first visit to Laminogwiri that we met Opiyo Richard. The drillers were greeted by his warm, inviting smile, little did they know it would be the start of a long friendship.
Opiyo works in the village as a motorcycle mechanic. He heard one of our field trucks approaching and looked up from his work. "When I saw that it was the team that would drill for us the borehole (Drop in the Bucket), I immediately came and joined them, showing them around and levelling the grass," recalls Opiyo.
A potential site for the well was soon found and Opiyo could barely contain his delight. "I was so excited to see the drilling rig arrive. I came to help them settle in and ended up staying until the borehole was completed," says Opiyo. "I was here for the handing over ceremony and I will always be near this borehole" adds Opiyo proudly.
Opiyo was there helping the drillers every day, happy to give his time and energy. He had paying work coming in, but felt that he needed to be there helping. The drillers loved his enthusiasm and were happy to have him around helping. Asked why he put aside his other commitments, Opiyo replied, "You don't know how badly we needed clean water in this village"
Opio shows us the old water source.
Opio took us to see the old water source. We started walking and eventually we reached a muddy open water hole. "We used to drink from this dirty pond. We shared it with pigs and cows. As for the distance? Well, now you know how far we just walked".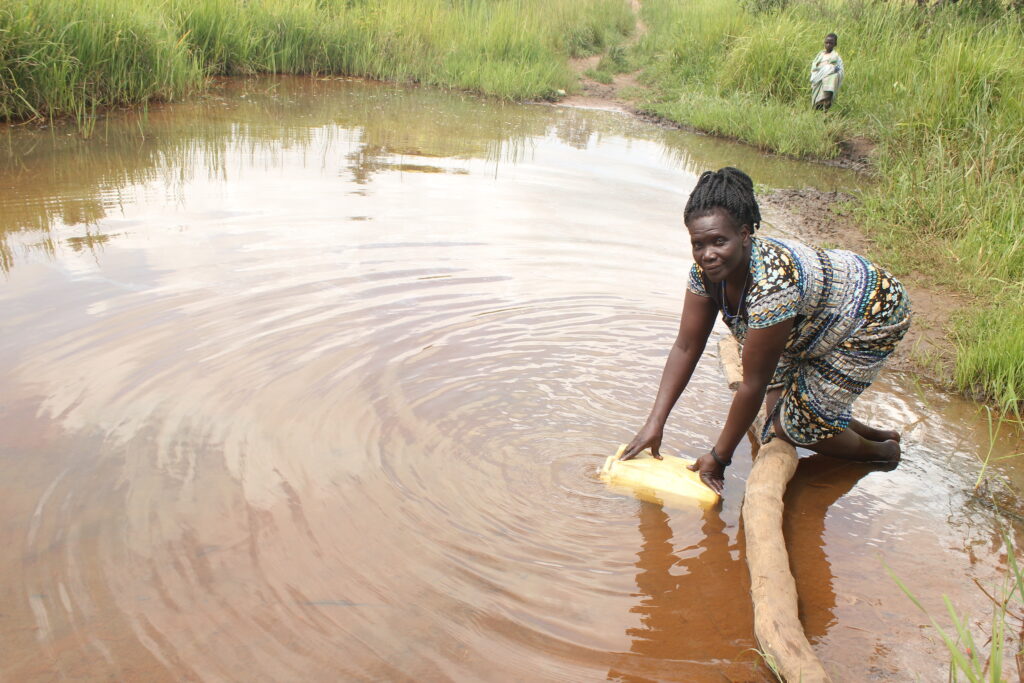 The pond water was muddy and stagnant. Definitely not water most people would even consider drinking, but for people of Laminogwiri, it was the only option.
The community members would stand in the water and scoop water into their buckets and containers.
Komakech Daniel, a local schoolboy remembers, "Our school uniforms are white, so when we washed them with water from the pond they got dirtier".
"During rainy season, the water on the ground runs into the pond, making it even muddier. With no other options, we still came here to fetch water. The next pond is just past that hill over there," says Oyella Nancy pointing towards the horizon.
With her baby tied on her back, Oyella Nancy and other community members gather to thank Drop in the Bucket at the commissioning of their borehole.
"We used his dirty water to bathe our babies and wash their clothes. We knew it was unhealthy, but what could we do?" adds Oyella with her baby on her back. Her face informs us that even as she was doing it, she was painfully aware of the risks of drinking dirty water shared with pigs and cows.
The New Well at Laminogwiri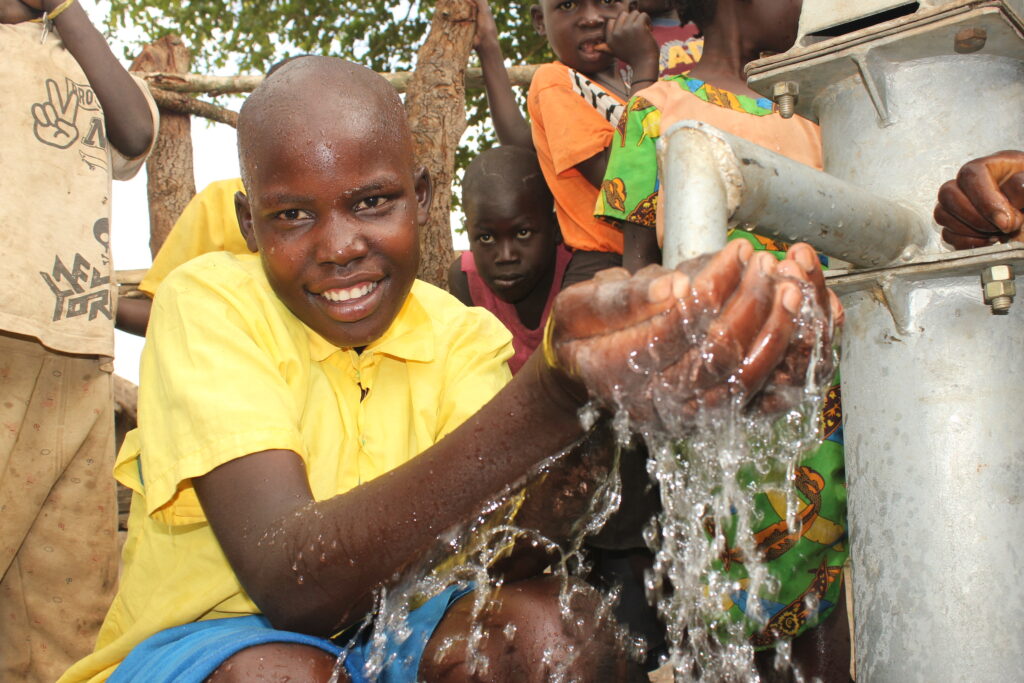 Aol Mary looks at the new borehole and smiles "You just heard that school boy talking about washing his clothes with dirty water and you heard my neighbors talking about their children getting sick from drinking dirty water, well all of those problems have now been solved".
Opiyo is sad to see his new friends leave, but he assures us that we are always welcome in the village and will always know where to find him. "I will be right here by the borehole, taking good care of it and making sure there are never any problems. But don't let that stop you from coming to visit us" he adds with a laugh.